Rimsky-Korsakoff Sheet Music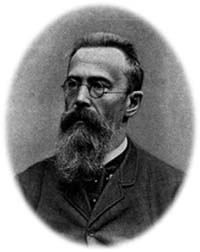 Nikolai Andreyevich Rimsky-Korsakov, also Nikolay, Nicolai, and Rimsky-Korsakoff, (18 March 1908) was a Russian composer, one of Russian composers known as "The Five", and was later a teacher of harmony and orchestration. He is particularly noted for a predilection for folk and fairy-tale subjects, and for his extraordinary skill in orchestration, which may have been influenced by his synesthesia. The first part of his surname, Rimsky, is due to the fact that some of his forefathers undertook a pilgrimage to Rome.
Like his compatriot Cui, he expended his greatest efforts on his 15 operas. Subjects range from historical melodramas (The Tsar's Bride) to folk operas (May Night) to fairytales and legends (Snowmaiden, Kashchey the Immortal and The Tale of Tsar Saltan). In juxtaposed depictions of real and fantastic, the operas invoke folk melodies, realistic declamation, lyrical melodies, and artificially-constructed harmonies with effective orchestral expression. Most of Rimsky-Korsakov's operas remain in the standard repertoire in Russia to this day. While the operas themselves are not well-known in the West, many selections are familiar to Western audiences. These excerpts include "The Dance of the Tumblers" from Snowmaiden, "Procession of the Nobles" from Mlada, "Song of the Indian Guest" (or, less accurately, "Song of India,") from Sadko, and "Flight of the Bumblebee" from Tsar Saltan, as well as suites from The Golden Cockerel and The Legend of the Invisible City of Kitezh and the Maiden Fevroniya.
Rimsky-Korsakov's status in the West has long been based on his orchestral compositions. Best known among these are Capriccio espagnol, Russian Easter Festival Overture, and the symphonic suite Scheherazade. Scheherazade is often cited as a textbook example of Russian orientalism. Likewise, while Capriccio espagnol could be considered a continuation of Glinka's Spanish Fantasies pittoresques, the vibrancy of Rimsky-Korsakov's orchestration far outshines Glinka's effort. It also served as a model for Maurice Ravel's Rapsodie espagnole.
Smaller-scaled works include dozens of art songs, arrangements of folk songs, some chamber and piano music, and a considerable number of choral works, both secular and for Russian Orthodox Church service, including settings of portions of the Liturgy of St. John Chrysostom (the latter despite his staunch atheism).
Rimsky-Korsakoff - Flight of the bumblebee Cello Sheet Music
Advertisement
Advertisement

Please right click on the download button and select "Save Target As" or "Save Link As" to download



You can share this sheet on your Twitter or Facebook account to let your friends know too!


(118.24KB)




















Other music sheets of Rimsky-Korsakoff