Luciano Berio Sheet Music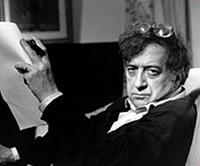 Luciano Berio, Cavaliere di Gran Croce OMRI (October 24, 1925 – May 27, 2003) was an Italian composer. He is noted for his experimental work (in particular his 1968 composition Sinfonia for voices and orchestra and his series of numbered solo pieces titled Sequenza) and also for his pioneering work in electronic music.
Berio's electronic work dates for the most part from his time at Milan's Studio di Fonologia. One of the most influential works he produced there was Thema (Omaggio a Joyce) (1958), based on Cathy Berberian reading from James Joyce's Ulysses. A later work, Visage (1961) sees Berio creating a wordless emotional language by cutting up and rearranging a recording of Cathy Berberian's voice.
In 1968, Berio completed O King a work which exists in two versions: one for voice, flute, clarinet, violin, cello and piano, the other for eight voices and orchestra. The piece is in memory of Martin Luther King, who had been assassinated shortly before its composition. In it, the voice(s) intones first the vowels, and then the consonants which make up his name, only stringing them together to give his name in full in the final bars.
The orchestral version of O King was, shortly after its completion, integrated into what is perhaps Berio's most famous work, Sinfonia (1967–69), for orchestra and eight amplified voices. The voices are not used in a traditional classical way; they frequently do not sing at all, but speak, whisper and shout. The third movement is a collage of literary and musical quotations. A-Ronne (1974) is similarly collaged, but with the focus more squarely on the voice. It was originally written as a radio program for five actors, and reworked in 1975 for eight vocalists and an optional keyboard part. The work is one of a number of collaborations with the poet Edoardo Sanguineti, who for this piece provided a text full of quotations from sources including the Bible, T. S. Eliot and Karl Marx.
Luciano Berio - Sequenza VII - Per oboe solo Flute Sheet Music
Advertisement
Advertisement

Please right click on the download button and select "Save Target As" or "Save Link As" to download



You can share this sheet on your Twitter or Facebook account to let your friends know too!


(3.15MB)


Other music sheets of Luciano Berio